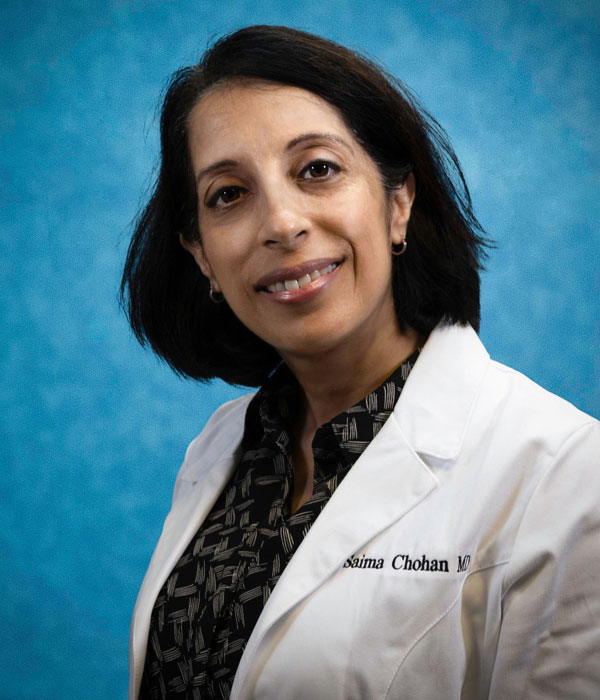 Saima Chohan, MD, FACR
Rheumatologist in Paradise Valley and Glendale, Arizona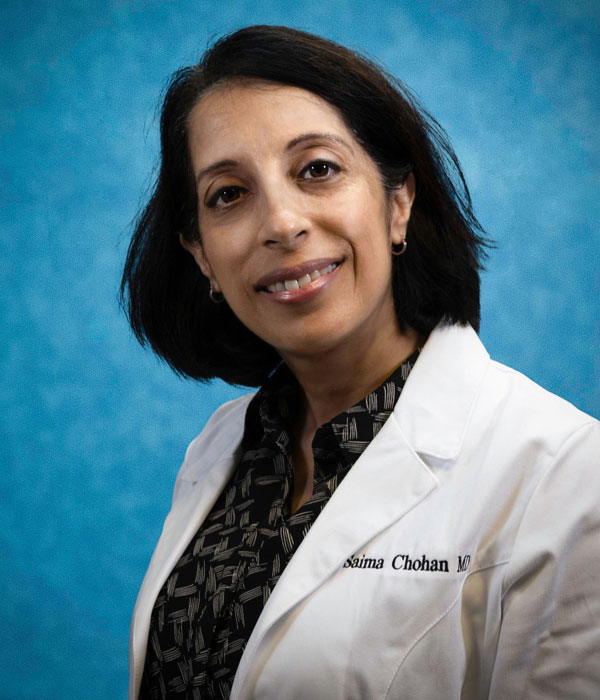 Profile
M.D. – The University of Cincinnati– Cincinnati, OH
Internal Medicine Residency – Riverside Methodist Hospital – Columbus, OH
Fellowship in Rheumatology – The University of Chicago — Chicago, IL
NIH-sponsored degree in Clinical Research
Board Certification – Internal Medicine
Board Certification – Rheumatology
Languages – English; Urdu
Dr. Chohan joined AARA in June 2013 from The University of Chicago, where she was on faculty for nine years. She was the Medical Director of the Rheumatology Clinic in the academic setting. She served as the Assistant Program Director for the rheumatology fellowship and was the Course Director for medical students and residents in rheumatology. She is accomplished in many areas and is well-published in crystalline arthritis (gout), with several publications in international-level journals and book chapters.
She has been an invited speaker at national meetings. She has completed an NIH-sponsored degree in clinical research and has been involved in many clinical trials for rheumatoid arthritis, lupus, and gout. She specializes in all aspects of clinical rheumatology, such as crystalline arthritis (gout, pseudogout), all forms of arthritis, vasculitis, inflammatory myositis, osteoporosis, and connective tissue diseases, including lupus, sarcoidosis, and soft tissue disorders. She is a Clinical Assistant Professor at Midwestern University Arizona College of Osteopathic Medicine and remains committed to volunteer work at healthcare clinics in the area.
Telehealth Appointments Available
Insurance Accepted
Dr. Chohan is contracted with all major insurers, including Cigna, Blue Cross Blue Shield of Arizona, TriCare, Aetna, United Healthcare, and Anthem.
Please verify this information when scheduling an appointment.
See what others have to say about Dr. Chohan