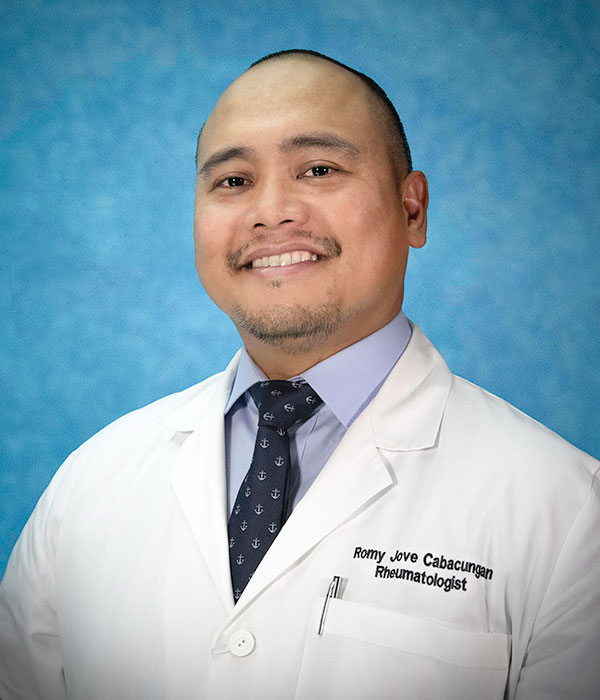 Romy Cabacungan, MD, FACR, FACP
Rheumatologist in Tucson, Arizona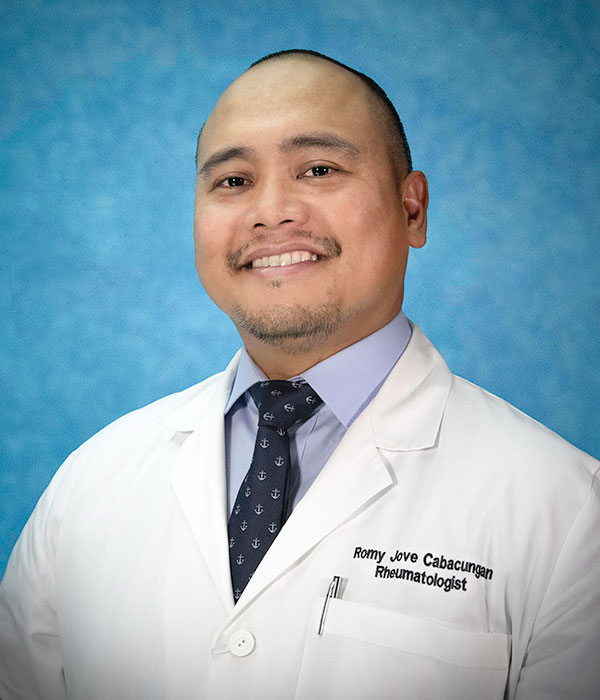 Profile
Bachelors of Science in Business Administration – University of California at Riverside – Riverside, CA
Doctor of Medicine – Fatima College of Medicine – Philippines
Residency in Internal Medicine – University of New Mexico – Albuquerque, NM
Fellowship in Rheumatology – University of New Mexico – Albuquerque, NM
Board Certification in Internal Medicine
Fellow of the American College of Rheumatology
Board Certified in Rheumatology
Dr. Cabacungan was a practicing Hospitalist and Associate Professor of Internal Medicine at the University of New Mexico (UNM). He then completed his Fellowship in Rheumatology at UNM, where he was Co-Chief Fellow. Dr. Cabacungan was involved in multiple studies involving lupus and opioid use, lupus and marijuana use, and improvement in the success and quality of arthrocentesis. Dr. Cabacungan is married with three beautiful children. He finds great satisfaction in volunteering in the community by mentoring at Big Brothers & Big Sisters, fundraising for March of Dimes March for Babies, and fundraising for UNM Neonatal ICU. He also loves spending time with his family; and enjoys tennis and golf.
His attitude and commitment towards patient care are to build a relationship between the patient and himself, working together to accomplish a desired goal. Dr. Cabacungan says his principle role is to provide the patient with accurate information about their condition or diagnosis and to recommend therapeutic options.
Telehealth Appointments Available
Insurance Accepted
Dr. Cabacungan is contracted with all major insurers, including Cigna, Blue Cross Blue Shield of Arizona, TriCare, Aetna, United Healthcare, and Anthem.
Please verify this information when scheduling an appointment.
See what others have to say about Dr. Cabacungan